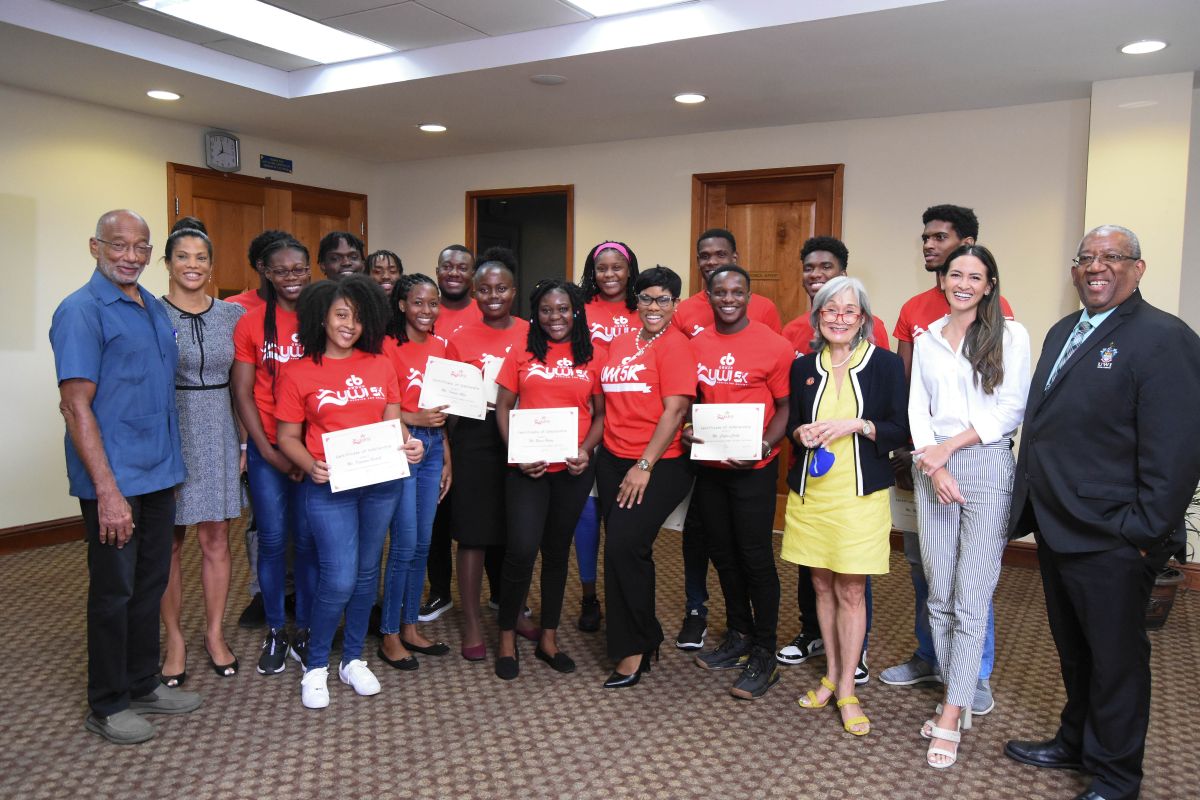 Twenty students pursuing tertiary education at The University of the West Indies, can now breathe a sigh of relief as to how they will be able to finance their education, having received scholarships to complete their areas of study. The batch of scholarships was again made possible through the annual major fund raising event facilitated over the last 10 years by title sponsor CB Group in collaboration with The University of the West Indies and other generous corporate partners. 
The presentation was made to the students at the launch of the 2022 CB Group UWI 5K and Smart Eggs Kids K held Tuesday, September 27 at the Regional Headquarters, UWI, where the announcement was also made that the "Running For Dreams" -themed event will again revert to the road, having had to go Virtual for the last 2 years, due to the Corona Virus pandemic.
Professor Dale Webber, Principal of the University of the West Indies, Mona Campus, in expressing his gratitude to the CB Group and other partner sponsors for their unwavering support said: " Education is not always available to many due to limited financial resources and it is, indeed, disheartening when we hear of  students deregistering, or not being able to take their exams. Today we again thank our partners for helping us to get to the end of our mission of making the dream of tertiary education available to many." 
In applauding the awardees on how determined and driven they were, Dr. Chin-Loy Chang, Co-Patron of the event along with her late husband and philanthropist Dr. Raymond G. Chang, urged them to work hard, work smart , limit their intake of social media, separate fact from fiction and to make graciousness and kindness a part of their demeanour.
"Be reassured that 'we have your back' and always remember to help someone else as you realise your own dreams," were some of the advice she shared with the awardees. 
Representing  the CB Group was Joelle Lodenquai Fontaine, Corporate Marketing Manager, who congratulated the awardees on their achievement and underscored her company's  support  for education and the development of Jamaica and its people as something that has long been embedded in its DNA. 
Extending messages of gratitude on behalf of their fellow students were Fabian Morris, a student of the Faculty of Law, who shared some of his challenges as having to abandon his Gordon Pen  home in Spanish Town due to violence, but used this as a stepping stone towards his goals.  Roneisha McGregor, third year track and field student in the Faculty of Humanities, expressed how hard it had been to stay focussed when worried about tuition payments and said that obtaining the scholarship was a major help.
Returning as Race Director, Alfred "Frano" Francis, head of Running Events Limited, lauded the fund raiser as one which is both saving and changing lives and urged the awardees and other past recipients to round up their associates to support the event which had given them a chance at obtaining their dreams.
The Race Director added that although the event was returning to the road, persons are invited around the Globe to enter virtually to support this most worthy cause.
Registration is now open for persons wishing to participate at www.runnngeventsja.com. The cost for registration is J$1,500 per adult and J$700 per student/child and J$1,200 per person as an adult group rate of  25 participants.