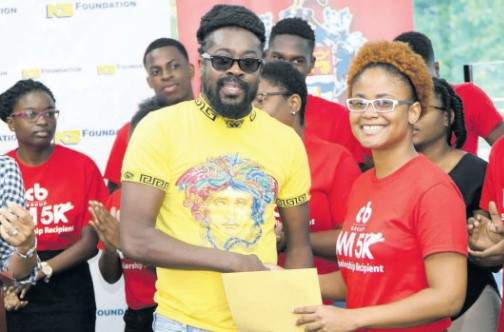 When dancehall entertainer Moses "Beenie Man" Davis walked onto the Mona campus of The University of the West Indies for the launch of the CB Group UWI 5K on Wednesday, October 2, some of his fans could not help but try to get his attention.
But the entertainer was on a different mission. Beenie Man was there to take over the microphone, not for one of his sizzling performances, but to deliver a scholarship to second-year UWI culture and entertainment student Renae Edwards.
When asked how she felt about receiving the scholarship, Edwards blurted out in Jamaican parlance: "Mi glad bag did buss."
"I constantly worried about my mom being stressed out over school fees and had started to feel like trying with school was pointless… I am happy that she is relieved of this financial load," she added.
The Holy Childhood High School alumna, who now has serious goals and some incisive thoughts about the culture and creative industries, including attaining a Master of Laws in Intellectual Property, admits that she was not always focused towards future pursuits while in high school.
"Honestly I wasn't really taking high school serious academics- wise [as] I just tried to do enough to pass [because] good grades didn't matter to me. I was just trying to enjoy the time I had at school with my friends as that distracted me from other things that were going on," Edwards shared.
Still, she was aware of the significant financial challenges her mother had in raising her and her two younger siblings.
"It was hard for my mother, who is my main source of financial support. She's a civil servant and the little pay she gets for her hard work made it harder for her to support us," Edwards recalls.
Concern for her mother and the desire to not let her down, provided enough motivation to enable her to finish her CSEC exams creditably getting six ones, two twos and two threes. Still, her overall class average was not much to write home about, and she remained unsettled about a career path.
"I hadn't really thought of what I wanted to be... I would say I wanted to pursue law or politics because that's what my family and other persons who came in contact with me thought would be good for me. But I never really had a profession I was genuinely interested in and working towards," Edwards said.
Having successfully completed her CAPE exams and secured a place at The UWI, she was faced with the choice of a major, and she chose cultural studies.
"The first thing that drew me in was that it sounded interesting... and there is so much room for improvement and development of the music industry and I'd like to be a part of that change," Edwards stated.
"I think there's a lot of talent in the industry, but ego and resistance to change prevents it from being as successful as it could. Also, there aren't a lot of trained professionals, and while experience is good, there are some things experience won't teach and vice versa," she added.
The CB Group UWI fund-raiser themed 'Running for Dreams' is a major event for the University of the West Indies Scholarship Fund and is scheduled to take place on the campus of the university on Sunday, November 10, starting at 6:30 am.
Read full story at http://www.jamaicaobserver.com/article/20191101/ARTICLE/191109996/1511.