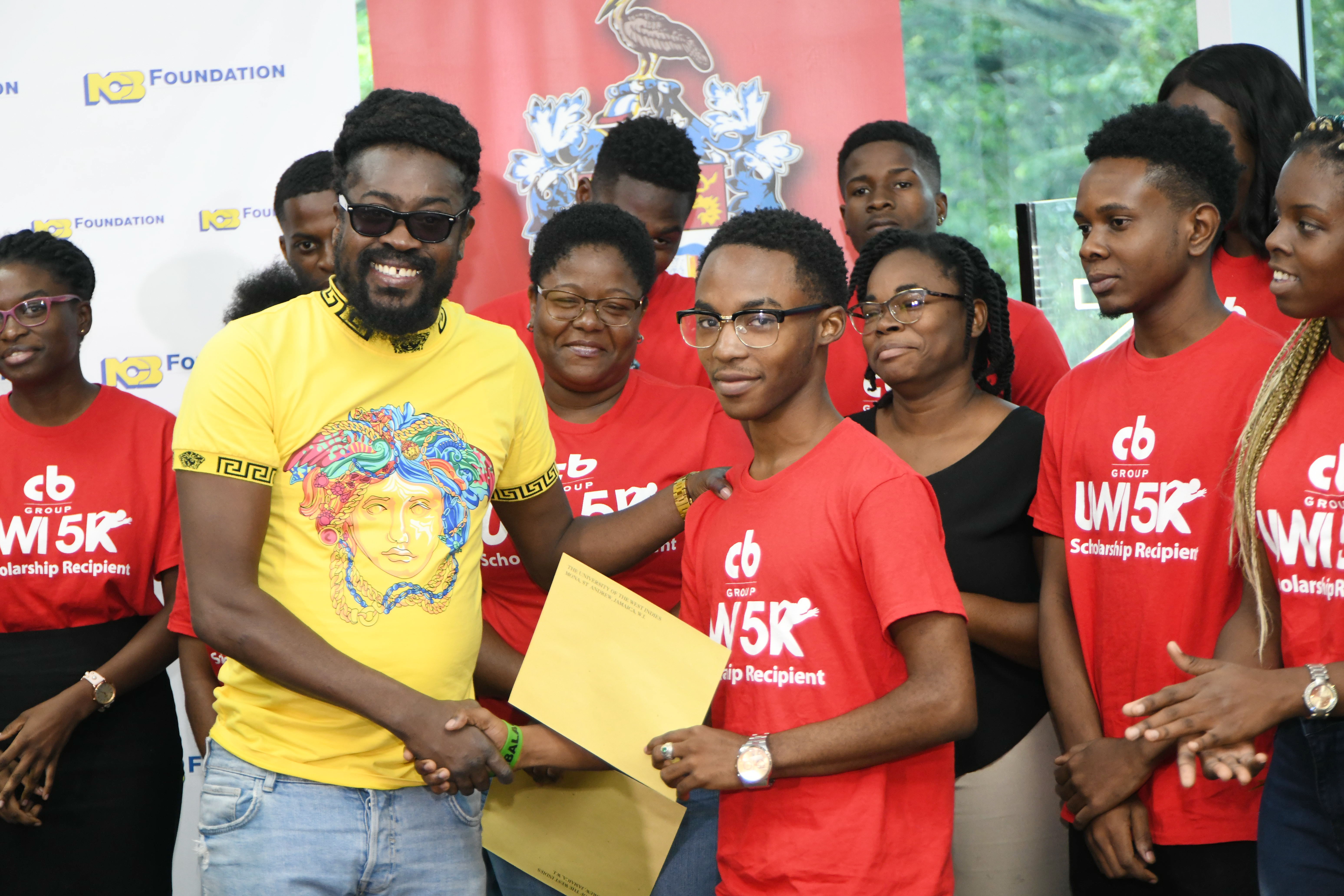 Jhevonte Webster could have believed that it was all doom and gloom because of his circumstance living in a community in the western end of St Andrew, sometimes blighted with crime and negative elements which has affected the innercity for decades.
That was the grim legacy facing him, and which he has been able to overcome, thanks to the help of the CB Group UWI Scholarship Fund and, more specifically, some help from a noted media personality. Jhevonte is the 2019 recipient of the Khadine "Miss Kitty" Hylton Scholarship, through which he is pursuing an undergraduate degree in Integrated Marketing Communication.
But the tale of Webster's journey is not nearly so cut and dried. "I grew up in a household of six in an inner city community that is and has been plagued with violence and depression for years, " he points out. "We grew up in a one bedroom house, but we were happy even though we weren't financially stable."
Still, that financial instability would seriously impinge on Jhevonte's pursuit of his dream of being the first in his family to attend a tertiary institution. In fact, the instability plagued him through his high school years, at Calabar, and he didn't help the situation by slacking off on his academics until it was almost too late.
"In my initial stages of high school, I wasn't very focused, because the reality of life did not kick in until Grade 11. I was the only one person in my class who had not received a subsidy from CXC for my CSEC exams because in Grade 10, I was an idler and that hindered me from unlocking my true potential. My parents had to hustle and raise $63,000 for my CSEC exams with no help," he remembers.
This was no easy feat for two working-class Jamaicans raising four children. "They both had to work 5 to 7 days a week to support us, balancing their nine to five jobs with odd jobs such as gardening and domestic work respectively. It was very hard for my parents; working everyday to support four children and trying to ensure that we were fed and clothed. The hardest times were usually back to school where they had to budget money from June to purchase our uniforms and books for September."
But, by sticking together, they managed to make the necessary provisions, and Jhevonte, realizing that time was not on his side, decided to, in his words, " pull my socks up." And it paid off handsomely. After doing the CSEC exams, he passed all his subjects with 1s and 2s,in fact, gaining the highest number of passes in his class, and also his History mark was the highest of his school. His social and service interactions were also exemplary, including Key Club, Interact Club and the Peace for Champs Initiative where he served as president for all three. He was also involved in ISCF, KSAMC Junior Council, Spanish Club, and the list goes on.
Even so, he says, the dream of attending a University seemed far-fetched even up until 2018, this being a different level of financial obligation. But Jhevonte was resolute. "I knew that poverty and mediocrity was never the end of the road from a tender age so I just worked in my capacity." And that outlook led him to apply for the CB GroupUWI Scholarship and, eventually, to the proud moment of standing to receive a Scholarship provided by his main benefactor, "Miss Kitty", at the recent launch of the 2019 CB Group UWI Scholarship Fund 5K Run/Walk and Smart Eggs Kids K, which is set for Sunday, November 10. Initially set on Journalism, he switched majors, as he discovered a greater love for the promotional and advertising fields.
He is, of course a willing promoter and advocate of the Scholarship Fund, given what it has enabled him to achieve thus far. "This scholarship came in very handy for me as it allowed me to continue my studies. There are no words in the English language that can describe how I feel after being blessed with this opportunity, I am forever grateful and I will work assiduously to ensure that the investments in my education will not go to waste."
Happy that he is not facing the prospects of either dropping out or being forced to seek employment, Jhevonte is enjoying the student life, and continues indulging his longtime hobbies of watching sports, surfing the web, scrolling through social media and talking with his siblings. Knowing that he is an ambassador for the programme and for the hope it engenders, Jhevonte has an encouraging word for other potential trailblazers. "Where there is a will, there is a way. Ghetto is not a physical place, it's a state of mind that poisons our present and tries to dictate our future. You don't need to be the smartest, the fastest or the strongest, you just need the will to press on and to get up after you have fallen." The inner city, he says, gave him strength, wisdom and most importantly, knowledge. "It taught me that there are people who are comfortable with allowing themselves to be beaten by the system, there are those who chose to be a product of the environment and there are those who want better than what they were given and this is the path I implore you to take. Fast life equals to fast downfall, stay true to yourself."
Words to live by from New Haven's newest history-maker and shining star.