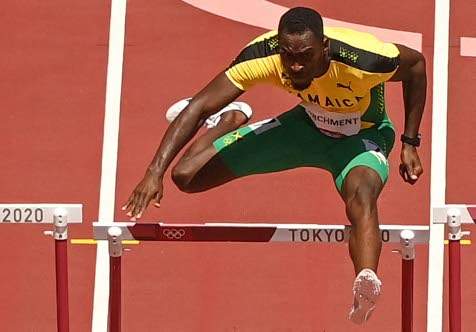 Olympic champion Hansle Parchment has called for more sports scholarships to be given to students of The University of West Indies and even from proceeds of the upcoming 10th Annual CB Group UWI 5K and Smart Eggs Kids K.
Parchment, who won gold in the 110m hurdles at the recent Olympic Games in Tokyo, was honoured at Wednesday's virtual media launch and urged the university to seek more "balance" to make it more attractive to people overseas.
The event, which will be held virtually for the second year between October 24 and November 25, aims to raise "much needed funds for academically outstanding students in dire financial need at The University of the West Indies".
Pointing out that he was the beneficiary of a scholarship to UWI-Mona, Parchment said: "I am a sportsman and I need to talk for the sports people. We need to see some more going to the athletes getting some of these scholarships.
"We understand that balance is important and we know that a lot of athletes sometimes struggle in the educational side of things, so we need to see some more of the scholarships going to the athletes as well."
The Thomas native said efforts could also be made to get other students involved in sports as a drawing card for international students.
"...The normal students who are very good in academics, they should be urged to get involved in sports...it's not only track and field, [as] we have football, we have tennis and swimming, we have so many other sports.
Read the full article at https://www.jamaicaobserver.com/sports/olympic-champion-parchment-wants-....